The Spirit of Adventure: Magnum x Belstaff
Mirrored histories and shared ideals come together in a new field bag collaboration
Magnum Photographers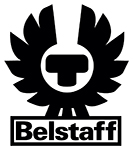 A Magnum X Belstaff Collaboration
Magnum photographers travel relentlessly. It is said that for co-founder George Rodger it was travel that brought him to photography and not the other way around. A shared spirit of adventure forms the foundation of a special collaboration between Magnum Photos and iconic British brand Belstaff. Both Magnum and Belstaff played a part in the Second World War effort: Magnum photographers cut their teeth documenting the war, while Belstaff supported the war effort with the supply of everything from parachutes to aviator suits.
A mirrored history
Following the aftermath of the Second World War in 1947, four photographers came together in Paris to form an allegiance. The beginnings of Magnum Photos, this union of the four distinct styles of four independent individuals – Henri Cartier-Bresson, Robert Capa, George Rodger and David Seymour – set the tone for the diverse agency Magnum is today. Around this time, Belstaff began to channel its expertise in crafting hardwearing kit for aviation and the navy into creating items for outdoor pursuits like motorcycling, which saw their aviator jacket reworked into the leather motorcycle jacket the brand is so well-known for today.
Taking into account testimony and guidance from Magnum photographers, this expertise in crafting hardwearing and weatherproof clothing and bags has been applied to a new accessories line. The result is the Magnum X Belstaff field & weekend bag, ideal for taking into the field, across whatever rugged terrain you might encounter on photographic assignments. In celebration of this coming together of shared ideals, we present some of the most iconic trips made by Magnum photographers in those early gestation days of the agency, when the world felt undiscovered and Magnum led the charge in reporting on disconnected locations.
Robert Capa lifts the Iron Curtain
Driven by the pure motivation of "honest reporting," in 1947 Robert Capa and American Author John Steinbeck, who had both covered the war as journalists, set out to investigate the realities of life in the Soviet Union. In a pre-internet world, some locations seemed totally inaccessible with very little information reaching a wider global audience. As the socialist state became an increasingly frosty and distant neighbor to Europe, marking the beginnings of what would become the Cold War, Capa and Steinbeck embarked on a trip "to set down what we saw and heard without editorial comment, without drawing conclusions about things we didn't know sufficiently." – the words of Steinbeck.
A year later, they published the book A Russian Journal through Viking Press. Their findings comprised a collection of written accounts and photographed moments of everyday life: "Underneath the rubble there were cellars and holes, and in these holes many people lived. We would watch out of the windows of our room, and from behind a slightly larger pile of rubble would suddenly appear a girl, going to work in the morning, putting the last little touches to her hair with a comb. She would be dressed neatly. How they [the women] could live underground and still keep clean and proud and feminine we had no idea. …It was a strange and heroic travesty on modern living," wrote Steinbeck. Capa captured the startling reality of tiny and mundane moments of everyday family and work life set against a backdrop of bleak shells of buildings and ubiquitous army tanks.
George Rodger, a Land Rover and the Sahara Desert
A relentless wanderer, "it was travel which led George Rodger to photography, not vice versa," writes Martin Caiger-Smith in George Rodger, Magnum Opus (1987). "At school I was a dreamer," said George Rodger. "I dreamed of far away places and never really studied. So, when Father tired of paying the fees, I left school and joined the Merchant Navy. By the time I was nineteen I had worked my way twice around the world and established an inability to stop still for long." After spending the 1940s documenting World War II and its aftermath, Rodger set his horizons further afield, travelling to the Middle East, Africa and the Caribbean.
Never one to be deterred by danger – in fact it seems he was positively attracted to it – Chim took to the Sahara with a LandRover during an ugly phase of the Algerian war when some of the approaches to the Algerian desert were laced with mines. Chim had already crossed the Sahara twice during WWII but it "lured him with its emptiness, its silences and nearness to infinity," wrote Inge Bondi, a journalist who joined the Magnum New York office in 1950.
"Fellagha rebel bands infested the rocky hillsides near Colmb-Bechar so that George and Jinx, his second wife who travelled with him, were obliged to have French military escort until the track fanned out into the desert proper….For ninety days they explored the Sahara and drove 8,000 miles by Landrover without ever leaving the desert. The National Geographic Magazine published Jinx's account of their trip in a text-cum-pictures feature called Sand in my Eyes."
A Continuing Journey
Since this early period in Magnum's History, the photographers of the agency have grown in number but have not faltered in their dogged determination to roam the world in search of stories that demand to be told. Dennis Stock soaked up the electric atmosphere of California at a pivotal time in America's history in his 1968 road trip; Eve Arnold captured the mood of China and Mongolia in the late 70s, sensing a change in the weather that would eventually culminate in the violence of Tiananmen Square in 1989; In 2006 Jonas Bendiksen mirrored Capa's 1947 trip with Satellites, which explored what had become of the USSR 15 years on from its collapse; and more recently Carl De Keyzer and Christopher Anderson have made trips to Cuba, and Alex Majoli and Paolo Pellegrin to the Congo, to capture an accurate portrait of life there.
Such relentless travel requires some equally robust kit. The Magnum X Belstaff field & weekend bag has been developed by Frederik Dyhr, vice president of menswear design, produced in collaboration with Paolo Pellegrin, who has helped to fine tune a product that can withstand field trip after field trip. Pellegrin describes the Magnum X Belstaff field and weekend bag as the "perfect combination of high design and functionality." Shop the collection here and look out for more from this exciting collaboration on MagnumPhotos.com.