Paolo Pellegrin in The Field
Dispatches on packing for assignment and collaborating with Belstaff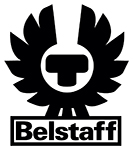 A Magnum X Belstaff Collaboration
Magnum photographer Paolo Pellegrin rarely sits back for long; he's been awarded no less than ten World Press Photo Awards, amongst other high accolades, for his photojournalism covering conflict zones and the migrant crisis. Decades in the field have honed the Italian photographer's skills in preparing for assignment at a moment's notice, often travelling to remote and dangerous locations alone. As part of a new collaboration on accessories, Magnum and Belstaff have leveraged expertise from Pellegrin to produce a weekend bag that is ideal for work in the field.
Talking about an assignment for a typical job, Paolo Pellegrin gives a run-down of the essential kit he needs to pack: "It's normal to carry two photobags – one quite big with three cameras and a smaller day bag with spare cameras and extra lenses in case of breakages," he explains. "When I go out in the day, I need to travel light and be agile so I take a small pack, and then one larger at my base with more."
Paolo's style of photography may require a lot of practical kit for field work but the realities of the bureaucracy involved in gaining access to the kind of places he goes to sometimes calls for less obvious items. "I also take a lot of books with me as there is a lot of downtime waiting around for permissions," says Pellegrin.
His extensive experience in the field, often travelling solo, makes Pellegrin ideally positioned to advise Belstaff on the development of a Magnum field bag for the first product from the collaboration. The result is a practical bag that is perfect for taking on assignment, such as the one he's currently on. It is "robust, not too heavy, easy to access, easy to carry," he says. Its multipurpose, modular construction is also key: "I can utilise it as my main camera bag but once the inserts are removed it's actually a perfect weekender…a degree of casual elegance also a plus."
Having photographed Belstaff's new accessories line, which includes the Magnum bag, Pellegrin says how his favourite shots from his campaign are those that conjure the feelings of being out on assignment, where his kit bag is not merely an accessory, but very much part of his work. "I particularly like the ones with movement and energy and where the relationship with the landscape is very present."
Shop the Magnum x Belstaff collaboration here.
Read about the shared ideals in Magnum and Belstaff's history here.